Like most house hunters, when we were apartment hunting, we had our "must-have" list of non-negotiables. And then we had our "bonus list" of things that would be nice to have, but weren't necessary. One of those "bonus" items was space for a home office. When we visited our apartment for the first time, it checked off most of the boxes on our must-have list (2 bedrooms, a dishwasher, space for a dining room table and chairs etc.) but it didn't have a separate dedicated space for a home office. In our last home (which was a one-bedroom apartment) in Boston, Michael and I just did work at the kitchen table, on the couch, or even in bed. It wasn't ideal, but we made do and figured we could live without it.
However, once we got settled in and things began to find their place, it looked like creating a dedicated workspace could be possible! With a little creativity, we could finally have a home office. Our work space is in the hallway that connects the the kitchen and dining room to the bedrooms. Because of this, unfortunately I don't even have any decent "before" pictures. Here are the best that I could find from when we first moved in: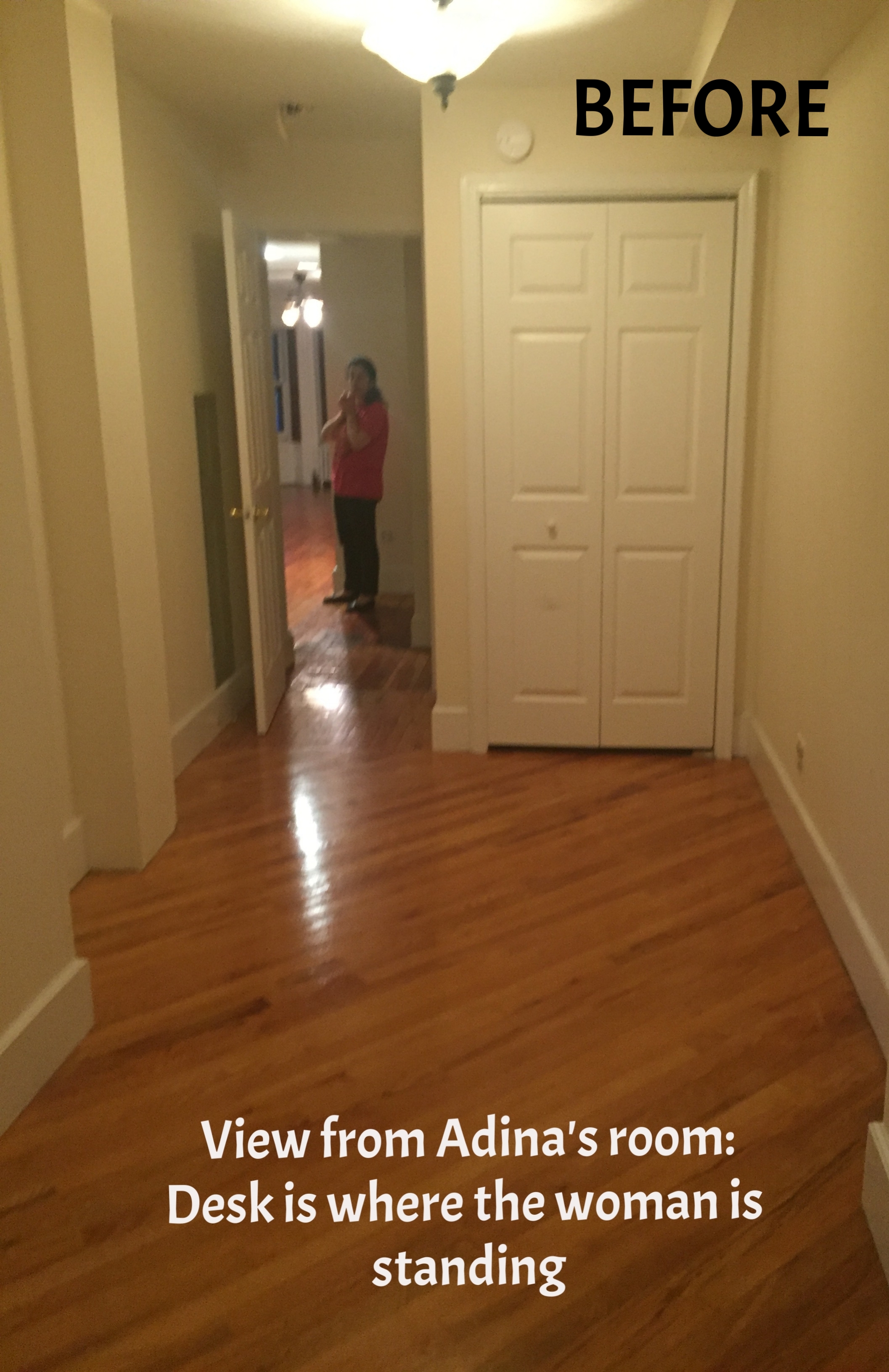 After taking some measurements, I saw that we had 5 feet x 2.5 feet of space to work with. I got inspired by some small work spaces I found online and began searching for the right furniture for the area. I saw this white desk from IKEA and liked how minimalistic it looked. I didn't want anything too large for the small corner space, and this simple desk fit the bill perfectly. Plus the dimensions were spot on for the amount of wall space. It also has 2 roomy drawers and 3 shelves that hold all kinds of office supplies & random goodies, plus I loved that it's easy to keep cords and cables out of sight with the cable outlet at the back. On top of the desk, I tried to keep things fairly simple. Desks can turn into drop-zones for paperwork and clutter, and I'm determined to keep this one in tip-top shape.
With the main furniture piece chosen, I started looking for the other office essentials. Since this is the hallway we walk through the most, I didn't want to do a "real" office desk chair. You know what I mean…a big, bulky chair with wheels? Instead I chose a simple ghost chair that can be moved around the house in case we need it for entertaining. It's comfortable and I love how it appears to be floating.
We used our extra night stand as a surface for our 3-in-1 printer/scanner/copier. This sheepskin rug is also a fun little addition. It's nice to have a place to rest my feet by the desk and this little guy is so versatile. I move him around the apartment all the time - next to my bed, in Adina's room, in the hallway etc. - because sheepskin goes with just about all of my decor.
Adding a Gallery Wall
Once the furniture was in place, I still was unsure about what to do above the desk. I considered doing picture ledges or a big mirror, but decided that this would be the perfect spot for a gallery wall. I picked up 9 of these white frames from Target and I'm so happy I went with them! (They also sell this set of the same frames in black for a steal!) The frames add some much-needed height, and give the space lots of personality. Choosing the photos was harder than getting the frames up on the wall! I chose pictures from our wedding, babymoon, maternity session, and of course - Adina!
At first, I was a little unsure about putting this work area in our hallway. I was worried it might make our small space leading to the bedrooms feel even tighter, but it fits perfectly and I am completely smitten with how it came out. Turns out, Michael uses the space more than I do! I'm so glad he is able to comfortably work from home on some late nights and weekends, allowing him to spend more time with Adina and me. Plus, it certainly beats our previous work area (aka the kitchen table or the middle of my bed…)
I hope you enjoyed this home office tour and feel inspired to make the best use out of your own small (or large) space!
Desk: Ikea // Nightstand: Ikea (similar here) // Chair: Ikea // Sheepskin rug: Amazon // Pillowcase: H&M Home // Picture frames: Target // Personalized Notebook: May Design // Mug: Anthropologie // Globe: Target